Best City Awards 2017 – OTS Gold Award
On October 5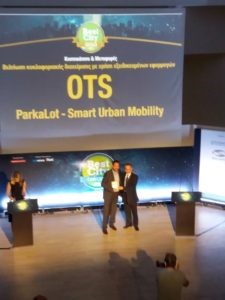 th, the Best City Awards of 2017 was held in Technopolis, Athens. The award ceremony was attended by Mayors from all over the country, Local Government officials, Regional executives, senior business executives, consultants and journalists, who were informed for the best practices, innovative actions and applied technologies that ensure a clean environment, health, security, culture, job opportunities, economic growth and ultimately better quality of living.
The evening began with the award of the Honorary Prizes to the Stavros Niarchos Foundation for Culture, for its contribution to the preservation and promotion of our cultural heritage, to the Committee for the Innovation of Development and Support of Entrepreneurship of KEDE, for the work that it is doing in the realization of the concept of the "smart cities" in our country, to the Municipality of Tilos for the "energy revolution" that implements in the Island and to the General Hospital of Athens Evangelismos, for the offer of Free Wi Fi throughout the hospital residence to improve the stay of ​​the citizens.
OTS has received the GOLD Award, the highest honor, in the Mobility & Transportation Awards Module, and more specifically in the "Best Real-Time Traffic Management Improvement Actions Using Specialized Applications" award for the implementation of ParkaLot.